---
Summer started with my father-in-law Andrew Wedderburn, aged 84, completing the Bronze Cateran Yomp. Having recovered from a heart bypass and prostrate cancer last year the 22 miles was an amazing achievement. He served in the Blackwatch so it was a charity close to his heart. He did the walk with two of his 6 children and was cheered in by several grandchildren and most of the yomp volunteers at the Bronze station. He is an incredible example of fitness and strength of character. Very inspiring.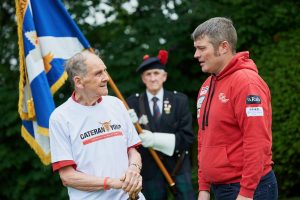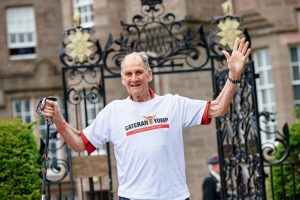 What a summer it has been.  If only Scotland were like this all the time but with a bit more water for the farm than this summer.  It has been a struggle to keep the cows going with food as the parched grass dried up more and more.
I have spent the summer watching nature's flowers and berries appear.  There is endless inspiration for colour, texture and pattern.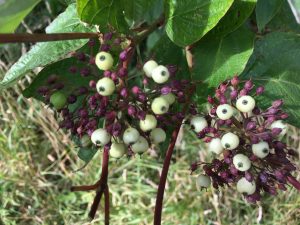 We had a few days away in Mallorca where the sunshine and colours were stunning. The local market had fabulous stalls full of pattern and bright colours. I can see all the colour combinations in the patterned rugs being used in my knitwear in bright stripes and the baskets of beads would make a great abstract printed textile circle pattern.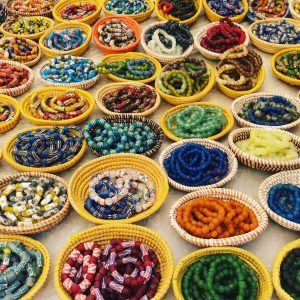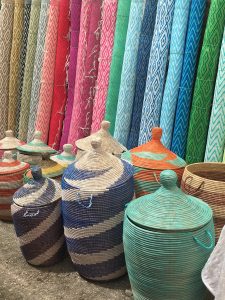 I took delivery of some new designs hot off the press – screen printed children's aprons. These are quite different from my usual bright coloured tea towels but I wanted to make them look like old fashioned children's toys and graphics. They come with endearing woodland animals, fox, mole, rabbit, hedgehog and squirrel.  The same designs come in notebooks and luggage tags.  They have had a great response from the retail outlets stocking them.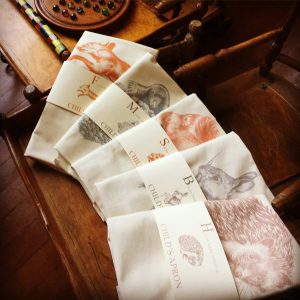 These were all hand drawn in pen and ink in black and white, then the Pantone colours were picked for the screen printing. They took quite a while to hand draw.  They will be photographed next week and then added to my website in time for the Christmas rush. If you would like some now you can get them on my Etsy shop LWedderburnDesign
They would make fantastic Christmas presents for children.  Wrap them up in brown paper with one of the luggage tags and some ribbon and you have a gift full of character direct from the designer!
As we go into Autumn the next posts will be more about my winter knits, fairisles and cosy hats. I'll let you know what's new in and what new colours there are on offer plus ideas for great gift sets for Christmas.
I nearly forgot to say that I now have loads of your favourite card designs available in handy notebooks with my trademark stripes on the back. They are so colourful and vibrant and come it at a brilliant price too! Good stocking fillers.